Degree Tracks
DEGREE TRACK SCHEDULES
The following academic schedules permit a student entering the University to complete all academic requirements within the normal FTE (full time equivalent) time allotted for completion. Students are required to complete their last 30 credits at APU and all APU credits must be completed within a maximum time of 150% of the normal FTE time allotted for completion.
The following A.A. and B.A. schedules list General Education and Developmental Skills requirements, the Vocational Cluster core requirements, and the Vocational Pathway requirements. In order to achieve greater breadth of knowledge, students are encouraged to utilize elective credits to enroll in courses of other academic disciplines while completing program requirements. Elective credit may also be used to complete a Minor in another field or enhance the vocational cluster and pathway. See your Academic Advisor for guidance in course selection. Note: Lower Division course numbers are 100-299; Upper Division course numbers are 300-499.
The A.A., B.A., and M.A. degree tracks on the following pages illustrate typical course sequences and timetables, but may vary to fit a student's need if approved by an advisor. Generally, undergraduate courses must be taken in order from lower-division to upper-division as depicted in the A.A. (2-year) and B.A. (4-year) illustrations. The Master's illustration depicts graduate-level courses that are taken over an 18-24 month period. All degrees must be completed within a maximum 150% of the illustrated timetable (i.e., A.A. must be completed within 3 years; B.A. within 6 years; and M.A. within 3 years).
ASSOCIATE DEGREE TRACK
A.A. General Education and Field Emphasis Courses (60 Credits)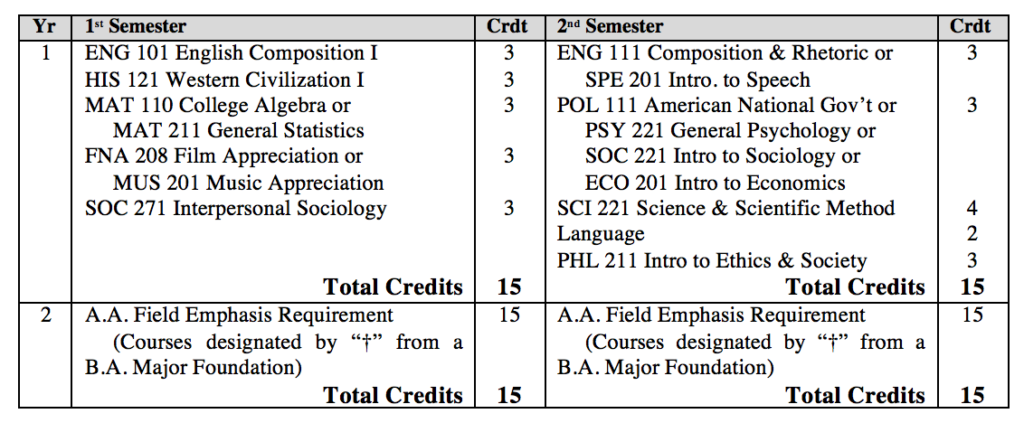 BACCALAUREATE DEGREE TRACK
B.A. General Education and Major Field Courses (120 credits)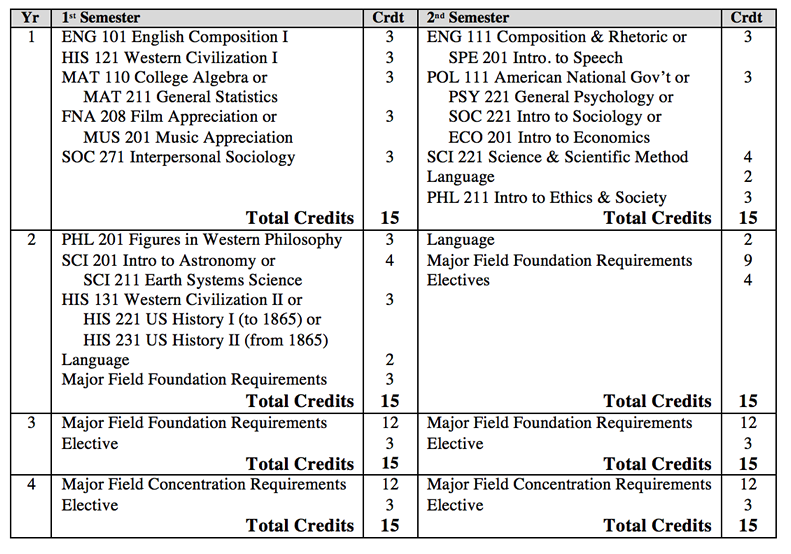 MASTER'S DEGREE TRACK
M.A. in Professional Studies Degree (36 credits), with a Foundational Requirement and a Professional Concentration (Executive Leadership and Professional Educator)